It can be challenging to choose the proper e-scooter for your daily needs. Our detailed guide will walk you through all of the necessary features and functions that you should be using in order to choose the best electric scooter.
Kaabo is back again in 2021 to share with you a beginner's guide to choosing the right e-scooter for your needs. From daily riding to weekend adventuring, we have models designed for every possible riding scenario.
Kaabo has a network of riders cruising city streets and tearing up off-road trails. Be sure to also check our reviews page to see what our community is saying about our scooters!
About E-Scooters
While e-scooter share companies first created large hype for e-scooters many riders are seeing the advanced benefits of buying a scooter for personal use.
With factors such as distancing from shared transportation and a variety of commuting or usage needs, there are many benefits of choosing to purchase your own electric scooter.
While there are many individual needs for electric scooter, such as commuting to work, replacing your car, or having some personal transport with a small footprint, Kaabo has a model for you.
Our detailed guide will help you find out which Kaabo electric scooter model is best suited for your individual needs and compliments your lifestyle.
The Key Features of a Good Electric Scooter
Firstly, we need to define some of the features that make an e-scooter "the best." This list is a general observation of some of the best features that any e-scooter user should look for when choosing their first, second, or twentieth electric scooter.
For those with some experience using an e-scooter before, it may be clear what qualities stand out for your needs.
Dual motors for high top speeds and high-performance riding
Strong battery for extended range and power output
Advanced safety mechanics and construction for daily riding
Durable build quality for long-term ownership
Optional: A unique construction with a fully intentional design.
Kaabo takes all of our riders' needs in mind when designing e-scooters, so each feature and build is made to be fully intentional and efficient. Each of our e-scooter models are created to be adaptable to suit any person's needs.
We will go into detail in how each Kaabo electric scooter uses each of these key features in a unique way.
The Best Commuter Electric Scooter
Commuting to work is something that everyone has to do. Why not make the commute more exciting and controlled with your own electric scooter? The Kaabo Mantis 8 is the ideal commuter companion.
Take full control of your commute and skip all the traffic with the Kaabo Mantis 8.is the complete package for daily commuting needs.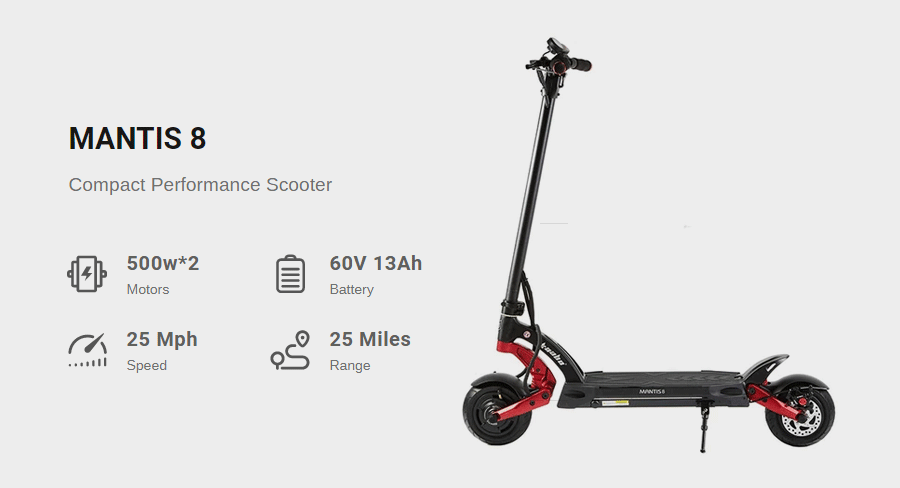 This powerful, yet compact model offers everything that a commuter would need:
Dual 500-watt motors with a top speed of 25 mph
Premium Lithium-Ion Battery offering up to 24.8 miles of range on a single, full charge
Compact 53-pound frame with V3 Handlebar Stem
Disk brakes and customizable ride controller
Surround-Deck LED lighting for night riding
Smooth-ride swing-arm suspension
The Mantis 8 is the definitive commuter electric scooter. This is a model designed for those commuting to work or going to the store.
The Mantis 8 is an essential tool for commuters and city riders. The Mantis 8 is suitable for all riders, from beginners to e-scooter veterans.
The Best City Riding Electric Scooter
If you are looking for a city e-scooter that is built for performance, then look no further than the Mantis 10. This electric scooter has a design similar to the commuter favorite, the Mantis 8.
The larger 10-inch tires compliment the additional power and performance behind the handlebars of the Mantis 10.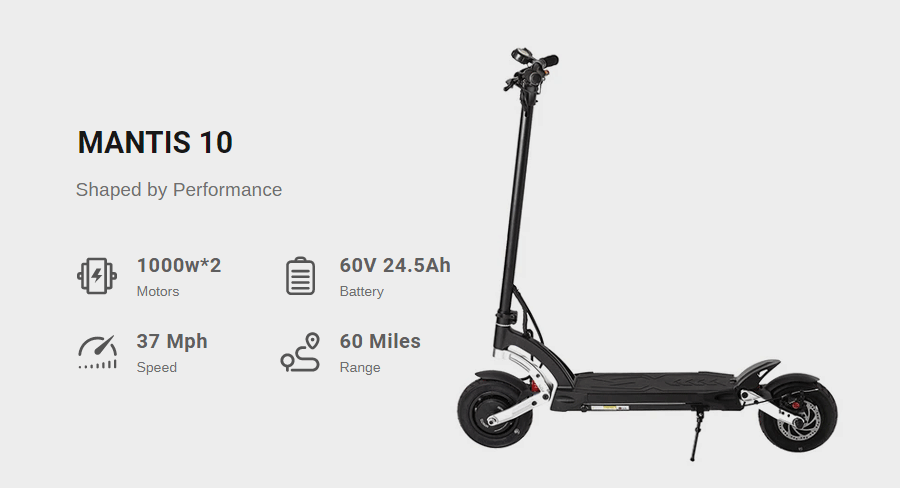 The Mantis 10 is voted in the Top Ten for best electric scooters of 2021 from Electric Scooter Guide.
The Mantis 10 is built on Kaabo's exclusive performance-ready platform, featuring:
Dual 1000-watt motors with a top speed of 37 mph
Premium LG Lithium-Ion Battery offering up to 60 miles of range on a single, full charge
Durable Sports Frame with V3 Handlebar Stem
Hydraulic Brakes and Exclusive Minimotors EY3 ride customization controller
Surround-Deck LED lighting for night riding
Smooth-ride swing-arm suspension
The Mantis 10 takes all of the favorite features of the compact Mantis 8 and provides extra power and handling features for riders.
This is the premium model for city-based riding. The Mantis 10 performance is built to provide thrills for city riding.
The Best All-Terrain Electric Scooter
One realm that few electric scooters have yet to explore is all-terrain capability. Kaabo is the long-time leader in this class, with the all-powerful Wolf Warrior 11.
The Wolf Warrior 11 is built for riding in various conditions and matches performance of Sport Utility Vehicles.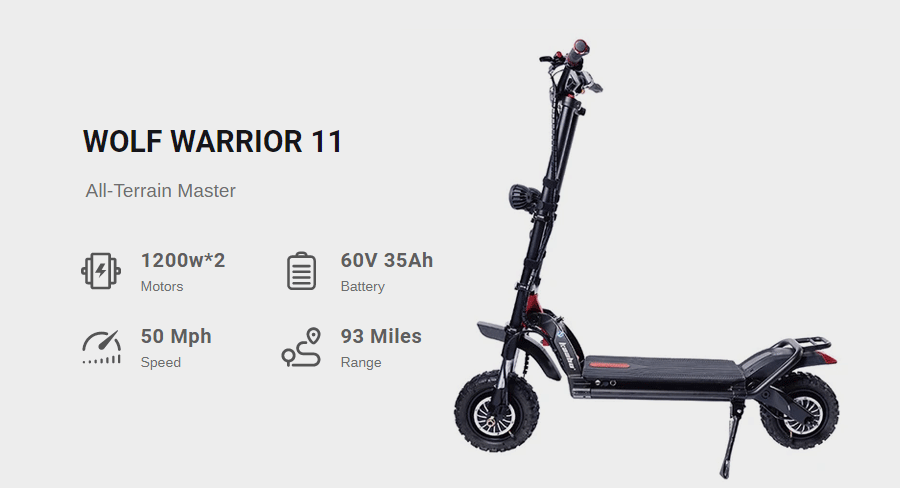 The Wolf Warrior 11 was voted the top electric scooter by Electric Scooter Guide and their community.
The Wolf Warrior 11 is the whole package, harnessing all of the potentials of electric scooter ability.
With components built to provide raw power and all-terrain performance, the Wolf Warrior 11 is a great model for weekday riding and weekend exploration. The Wolf Warrior packs all of the features and performance requirements that could replace your car!
Regardless of where you are headed, the Wolf Warrior 11 will take you there.
The Wolf Warrior riding platform features some of the pinnacles of Kaabo's electric scooter design:
Dual Multi-Terrain 1200-watt motors with a top speed of 50 mph
High Performance LG Lithium-Ion Battery offering up to 93 miles on a single, full charge
Sports Utility single-forged frame
Full hydraulic Brakes with ABS system
11-inch all-terrain tires
Hydraulic fork front suspension
The Wolf Warrior is Kaabo's flagship all-terrain model. There is no competitor that can provide the amazing abilities of this electric scooter.
Beginner electric scooters be aware that there is a slight learning curve for the Wolf Warrior 11 given its massive power output.
The Wolf Warrior also has an extremely sturdy all-terrain frame that weighs more than the lightweight Mantis line.
The Wolf Warrior as become an indicator of power in the electric scooter community, setting standards for the whole industry.
Choosing Your Electric Scooter
As you have seen, there is variety of options for electric scooters. At the end of our outline, the advice we can provide to you is to choose the electric scooter that compliments your needs and lifestyle the most.
What are you going to use the electric scooter for?
How many times in a week will you ride?
Where will you ride? Only on city streets, or off-road too?
What is the usual mileage of your commute?
What is the time it takes to get to work when driving a car? How about when riding an e-scooter?
Questions like these and many more will help you come to a conclusion and determine which electric scooter is built for you.
Kaabo has gone above and beyond to design electric scooters suitable for many riders and their riding needs.
Contact our team at info@kaabo.gr if you have further questions or need guidance for choosing the right e-scooter.
Additionally, Kaabo Greece provides detailed maintenance help and rider assistance for all of our customers as they need after purchasing an official Kaabo Greece electric scooter.
We hope that you learned something new about choosing the right electric scooter model for you. If you have any further questions, feel free to reach out to our professional team or shoot us a message on social media!